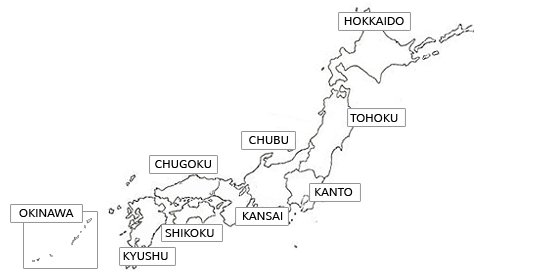 Japan has eight beautiful regions rich in culture and diversity. Select a region to explore and view available ryokans.
Welcome to Iwaso. This wonderful Luxurious Ryokan, opened in 1893 was the first ryokan opened for business on Miyajima. Iwaso is situated in a very beautiful part of Momijidani Park and when it was first constructed the owner built a tea shop and planted the area with maples trees. Iwaso was constructed in the "miya-daiku" style, by the same craftsmen who built Japanese shrines. Previous guests have included famous authors, artists, and members of the Japanese royal family. There are 42 Japanese-style rooms located in 3 different buildings - the Shinkan, the Honkan, and the Hanare. The Honkan (original building) at Iwaso is the oldest one and it is more ornate and traditional than the Shinkan (annex). However, the rooms in the Honkan do not have private baths while the rooms in the Shinkan have private baths. There are also shared baths at Iwaso (same gender only). Traditional Kyoto-style meals are served to the guests, and a pick-up service is available. Check-in time is after 15:30 and check-out time is before 10:00 am.
Facilities
GUEST ROOMS
Japanese Style Room with Private Bath
Japanese Style Room with Private Toilet Avialable
Large Japanese Style Room (4 or more guests)
Non-Smoking Rooms
Hanare, (Private Guest Residence)
Towels
HOT SPRINGS BATH
Shared Outdoor Hot Spring Bath (Same Gender Only)
Shared Indoor Hot Spring Bath (Same Gender Only)
Private Hot Spring Bath in Guest Room
Private Outdoor Hot Spring Bath (Attached to Guest Room)
"Family Bath" (Privately Reserved Hot Spring Bath)
Mixed Outdoor Hot Spring Bath
REGULAR BATHING FACILITIES
Shared Outdoor Bath (Same Gender Only)
Shared Indoor Bath (Same Gender Only)
Private Outdoor Bath (Attached to Guest Room)
"Family Bath" (Privately Reserved Bath)
Mixed Outdoor Bath (Both Genders)
MEALS
Dinner and Breakfast Plan Available
Breakfast Plan Only Available
No Meal Plan Available
SPECIAL MEAL REQUEST
Special Meal Request (e.g. No Pork)
Vegetarian Meals (with fish)
Vegetarian Meals (no fish but with fish broth)
Western-style Breakfast
DINING ARRANGEMENTS
Dinner Served in Guest Room
Breakfast Served in Guest Room
OTHER
English Ability of the Ryokan Staff/Owners:

Basic English Spoken

Internet Connection:

Wifi Available

Parking:

Free Parking

Curfew Time:

23:00

Pickup Service:
Single Guests:
Children under 12 Years allowed:
Pay with a Credit Card:
Shops and Restaurants Near Ryokan:
Guest Photos:
You Must Be Logged In To Submit A Guest Review
Ryokan Reviews:
Relax at Iwaso
Sophie
Month Of Visit: February
Country Of Reviewer: USA
Iwaso was a great place to relax toward the end of our busy trip. The staff was exceptionally nice and accommodating, and the dinner was amazing. Our room attendant was actually chuckling toward the end and telling us, don\'t worry - only 2 more courses! The only negative thing I have to say is that after staying at a temple on Koyasan, the atmosphere here was not as impressive - the halls of the ryokan felt like a regular hotel rather than a traditional Japanese building. Of course, the other downside is the cost. I\'m on the fence about whether it was worth it, and would say that you are paying a premium for the service (which, as I mentioned, was great). But, if that is not important to you then you may get a better bang for your buck staying at a ryokan / temple on Mt. Koya if that is on your itinerary.
Really nice
Rachel
Month Of Visit: June
Country Of Reviewer: USA
Iwaso was a great Ryokan. The staff were exceptionally friendly and accomodating. They even taught me how to make oragami! The location is great and the food was delicious. Lots to do..this was my favorite spot in Japan